Specialists of the information and analytical center of the NCUVKZ conducted satellite monitoring of Lake Garyachka, used for waste disposal of Darnytsya CHP-4 (m. Kyiv). Their conclusion – the situation can lead to environmentally hazardous consequences for the environment and the inhabitants of the housing estate.
Throughout the monitoring period with 2005 by 2021 рр. according to satellite data, emissions from ash dumps were recorded, which completely silted up Lake Goryachka, that almost 60 years used as a technical. The thermal power plant operates on coal, therefore, waste in the form of hot coal ash must be poured into special concrete pools. There the mixture is defended, heavy components settle, then the water is filtered and after environmental monitoring is drained into the storm sewer, and the remaining coal suspension is disposed of. However, treatment plants for CHP -4, that meet all environmental standards, were never built, and the idea of ​​directing dangerous runoff into natural lakes has led to catastrophic consequences.
For many years, Lake Garyachka was gradually filled with waste, a u 2014 year, the reservoir was surrounded by a concrete fence, equipped with drains and water in the lake is almost gone. Despite the increase in the area of ​​the ash dump, its sanitary zone, vice versa, decreased. On the site of the former protection zone of the Darnytsya CHP ash dump (300 m) high-rise buildings and a kindergarten were built. IN 2013 year was established 150 - meter sanitary zone, in which, again, in violation of all existing norms, the Auchan shopping center was built.
According to the results of data processing remote sensing is established, that starting with 2005 year after 2021 year, the water surface area decreases rapidly: in 2005 year it was 8,58 ga, ( addition 2) a u 2020 year only 0,98 ga. Emissions are constant and slowly settle to the bottom, that is, the reservoir periodically absorbs them, and already now the ash dumps have reached a critical limit and as of today the water surface is almost absent: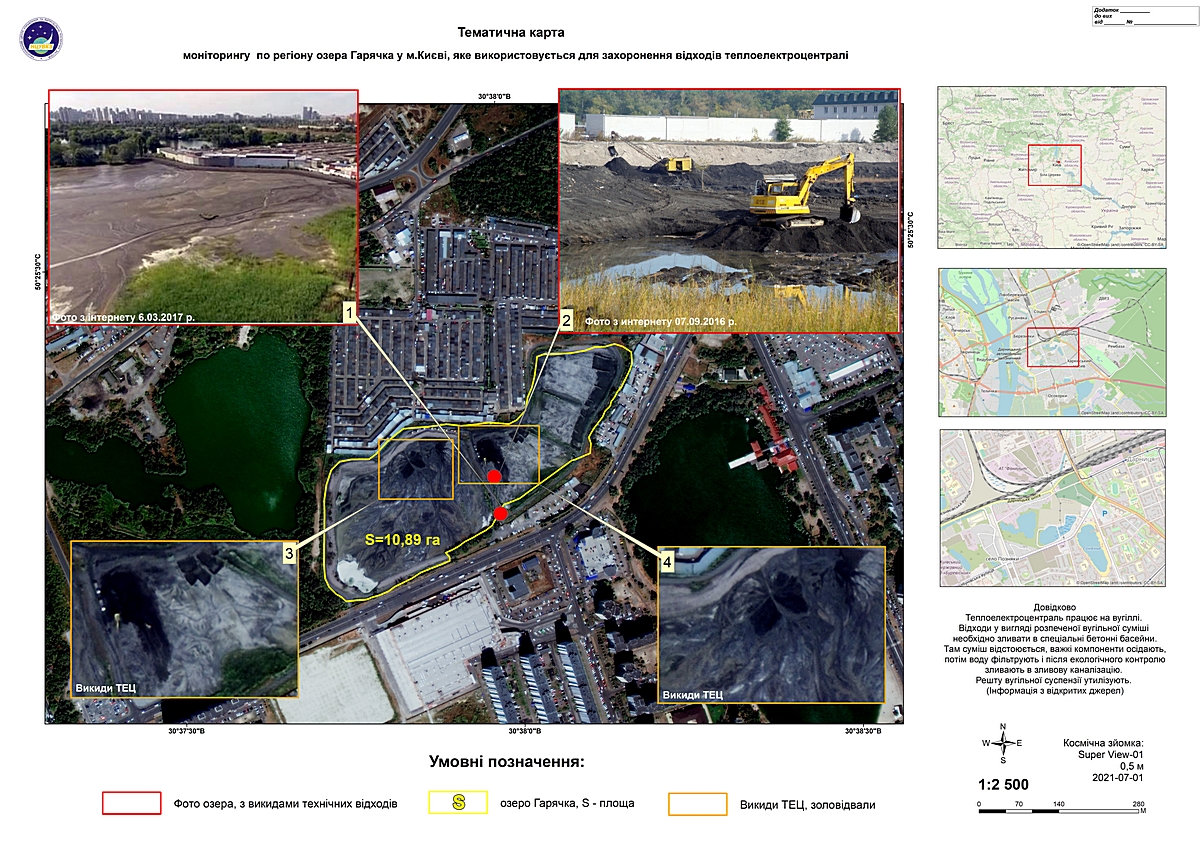 Specialists of NCUVKZ, thanks to space images, found accelerated backfilling of water surface with ash, which led to the almost complete absence of water in 2021 year. Further use of Lake Garyachka for ash dumps of Darnytska CHP-4 may lead to ecologically dangerous consequences for the environment and residents of the residential area, located nearby. Narrowing of the buffer zone in 2013 year before 150 m and the construction of a supermarket "Auchan" needs to be checked by the authorities for the legality of such a decision.